1. Initial Telephone Contact
Clients will need to call ahead before coming to the hospital. When you call one of our knowledgeable and friendly staff members will go over our protocols and inform you of our current wait time.  The staff member will gather information about your pet and its symptoms, explain hospital policies/procedures, financial obligations, and help with directions to the clinic. There are unavoidable times when we have to limit the number of cases we can see due to the severity of patients we are actively treating (multiple lifesaving surgeries, a large amount of intensive medical cases that take up several staff members, etc.) at the moment. If we are at capacity, we may have to divert your pet to another emergency facility or to VetTriage which can better assist them in their current emergent situation. This is an undesirable step, but necessary for our current patients and staff. If you do not feel that your pet needs immediate care, a staff member may be able to give you some advice to help keep your pet comfortable until you can see your regular veterinarian.
2. Registration at the Front Desk
One of our Client Service Representatives (CSR) will greet you upon arrival.  We will provide you with the Client/Pet Information Form that allows you to tell us about you and your pet.  Our CSR will also escort you to an open exam room as soon as one is available.  If your pet's condition may be life-threatening, our receptionist will call a technician to "triage" your pet.  If the technician feels that your pet needs immediate care, she may ask to take your pet directly to the treatment area for evaluation by one of our veterinarians.
3. The Waiting Room / Lobby
Just like in a human emergency room, some patients arrive in a life-threatening condition and must be seen right away, and at times several patients arrive at once.  We aim to minimize your wait while still giving each client and pet the time they need and deserve.  Our receptionists will help keep you updated as best as possible on your estimated wait time.  Please alert our receptionist if you notice a change in your pet's health status during your wait.
4. The Examination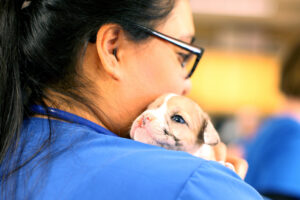 Once you and your pet are situated in an examination room, a technician will gather a brief health history for your pet and any other relevant information as well as check your pet's vital signs.  Next, our veterinarian will ask you a few more detailed questions and perform a physical examination.  Once our veterinarian has discussed with you their recommendations, they will build a Medical Care Plan for your pet, which a staff member will review with you for your approval.  We will do our best to provide a Medical Care Plan with which you feel comfortable.
5. Admitting Your Pet
If your pet will be hospitalized with us, our CSR will fill out a Hospitalization Form with you at the front desk.  This form helps us keep track of important information like your contact information for updates on your pet's condition and any personal items you would like to leave with your pet.  We do require a deposit at the time of hospitalization, the amount of which varies depending on the care your pet needs.
6. While Your Pet is Hospitalized
Our veterinarians will update you at least twice per day on your pet's condition.  If at any time you would like to check on your pet, please feel free to call!  Also, many pets benefit from spending some time with their owners while they are hospitalized—please call if you would like to come by during your pet's stay at Mountain View so we can plan the best time for your visit.
7. Discharging / Transferring Your Pet
The veterinarian will discuss with you an appropriate time for discharge or transfer of your pet to your regular vet, depending on your pet's health status.  When you arrive to pick up your pet, please be sure to bring your pet's leash or carrier for safe transport.  Our vet will speak with you about your pet's progress and our CSR will help you and your pet check out by reviewing discharge instructions and medications.  Please don't hesitate to ask questions!
Mountain View Animal Emergency accepts the following forms of payment:
Visa, MasterCard, Discover, AMEX, Care Credit, Scratchpay, Checks, and Cash.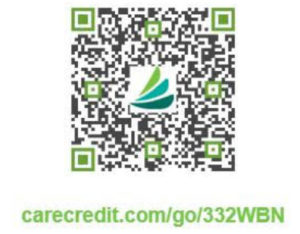 *All payment is due at the time of service, as billing options are not available.