Support Staff
The most important aspect of our approach to critical care is our staff. Mountain View Animal Emergency is comprised of career, experienced, and compassionate caregivers that are part of the entire medical process. They are always looking to expand their medical knowledge and provide excellent care.
Our experienced receptionists routinely juggle multiple tasks focusing not only on the patient, but also our clients. Most of MVAE's employees have been with the practice for several years. Their hard work, dedication and care are the backbone of Mountain View Animal Emergency.
Dr. Shawn Wilson
Dr. Wilson was born in Washington, PA. While growing up, he spent as much time as he could on his grandparents' farm and that exposed him to several aspects of veterinary medicine. He knew from a very young age that this was his calling.
Dr. Wilson started working in the veterinary field at the age of fifteen. He was introduced to emergency medicine at nineteen and has been hooked ever since. Dr. Wilson has his undergraduate degree in biology from Virginia Tech, and received his DVM from Louisiana State University in 2004. Since then he has devoted his entire career to emergency medicine. During this time, he assisted in starting two emergency hospitals and finally opened Mountain View Animal Emergency in 2008.
Dr. Wilson loves all aspects of emergency medicine but especially surgery, radiology, and trauma cases. He also recognizes that emergency medicine is not all about the patient, but also about that patient's family and caregivers, for whom a trip to the emergency hospital can be stressful and scary. Dr. Wilson feels that a big part of what we do is assisting our clients and referring veterinarians in any way we can to help get them through their current crisis.
When Dr. Wilson is not in the clinic, he enjoys spending time with his family and just being outdoors. Most of the time he is either going to the kid's soccer practices and games, goofing off and being one of the kids, hunting, fishing, camping, grilling…. any excuse to be outside!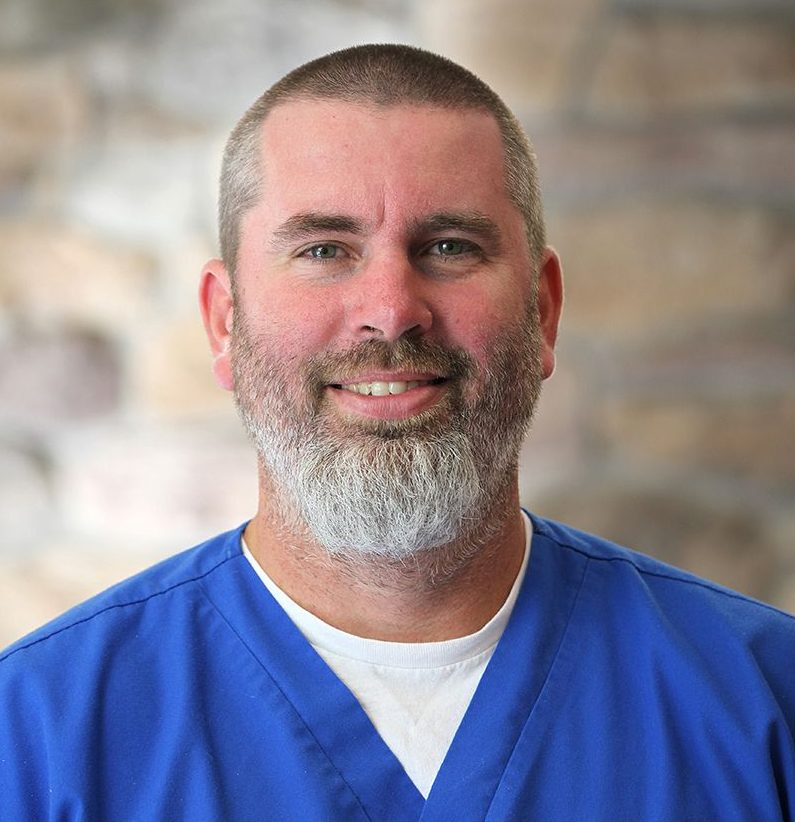 Dr. Heidi Mostoller
After graduating from the University of Minnesota School of Veterinary Medicine in 2000, Dr. Heidi Mostoller completed a one year internship focusing on small animal medicine and surgery at Friendship Hospital for Animals in Washington, D.C. Since then, Dr. Mostoller has gained extensive experience over the last fifteen years working in small animal practices and small animal emergency hospitals in Minnesota, Pennsylvania and Maryland before becoming part of Mountain View Animal Emergency's team in 2010. In her free time, Dr. Mostoller enjoys hiking, cooking, gardening and entertaining her hunting dogs. She lives in Saint Thomas, PA with her partner, Jeff, and their many dogs and cats.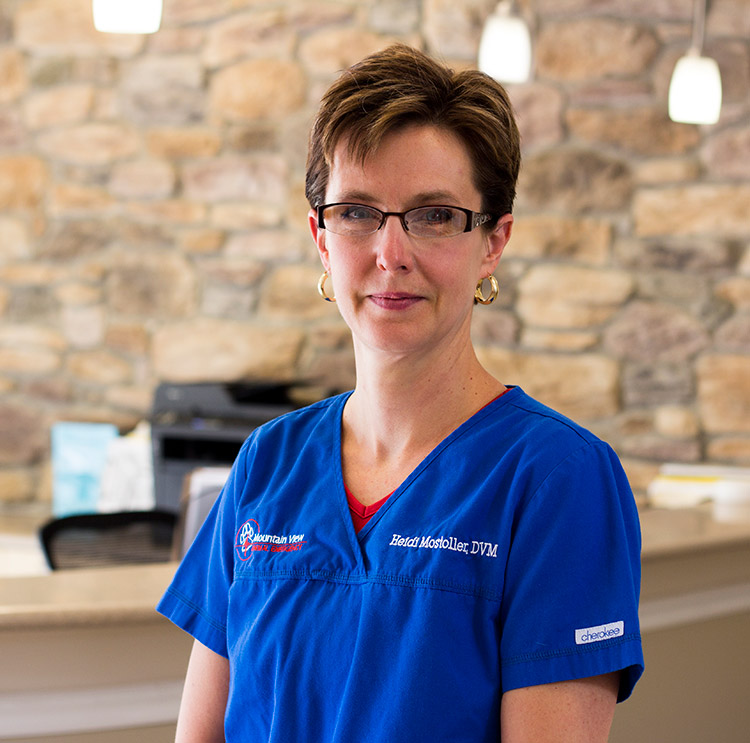 Dr. Tracey Stonebridge
Dr. Stonebridge originally hails from New York City, but has toured the United States over the past few years before finding home with us at Mountain View. The majority of her early exposure to veterinary medicine was in the equine and large animal world, and during her school years she worked for over 8 years managing and teaching at an equestrian camp in upstate New York. She completed her undergraduate degree at Lake Erie College in Ohio, where she focused on Equestrian Studies and Biology. After completing her Bachelor's, Dr. Stonebridge moved to North Carolina to gain more experience in small animal medicine before applying to veterinary school. While working as an assistant, she quickly fell in love with the pace and variety that emergency medicine presented. Her path then took her to Kansas State, where Dr. Stonebridge earned her DVM in 2015. Returning to North Carolina, she completed a 1 year rotating internship at Carolina Veterinary Specialists working emergency and with specialists in Internal Medicine, Surgery, Neurology, Oncology and Cardiology. Although Dr. Stonebridge appreciates all aspects of veterinary medicine, her special interests include wound repair and management, neurology and pain management. When not at work, Dr. Stonebridge spends time with her horse whom she competes in Eventing and Jumper competitions, hiking with her husband and their dogs, and other outdoor activities. She is an avid reader and loves to cook for friends and family. Dr. Stonebridge is on the American Veterinary Medical Foundation Scholarship Committee, and is involved in selecting recipients for various veterinary school scholarships.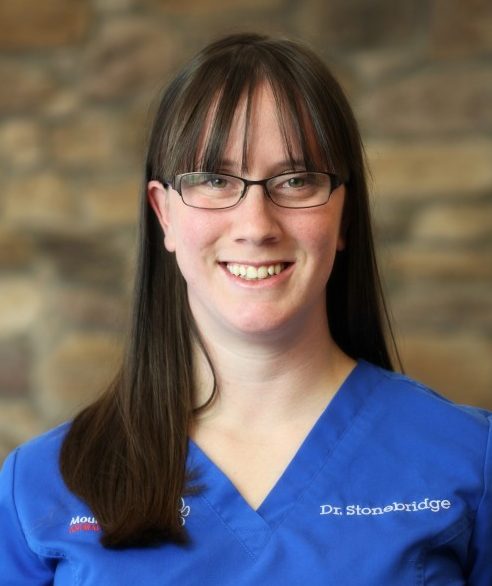 Dr. Adam Mauser
Dr. Adam Mauser is a 2014 graduate of the Ohio State University College of Veterinary Medicine. Prior to attending veterinary school, Dr. Mauser attended Kent State University for both zoology and psychology. During his undergraduate coursework, he worked in the veterinary industry as a technician. After graduation, Dr. Mauser completed two separate internships. The first internship took him to the Animal Medical Center in New York City. This internship focused on small animal medicine and surgery. The second internship was at the Hope Center in Vienna, Virginia with a focus in small animal internal medicine. After his internships, Dr. Mauser entered into emergency medicine, joining Mountain View Animal Emergency in the summer of 2016. When not at work, Dr. Mauser enjoys keeping active with running and weight training as well as hiking and backpacking.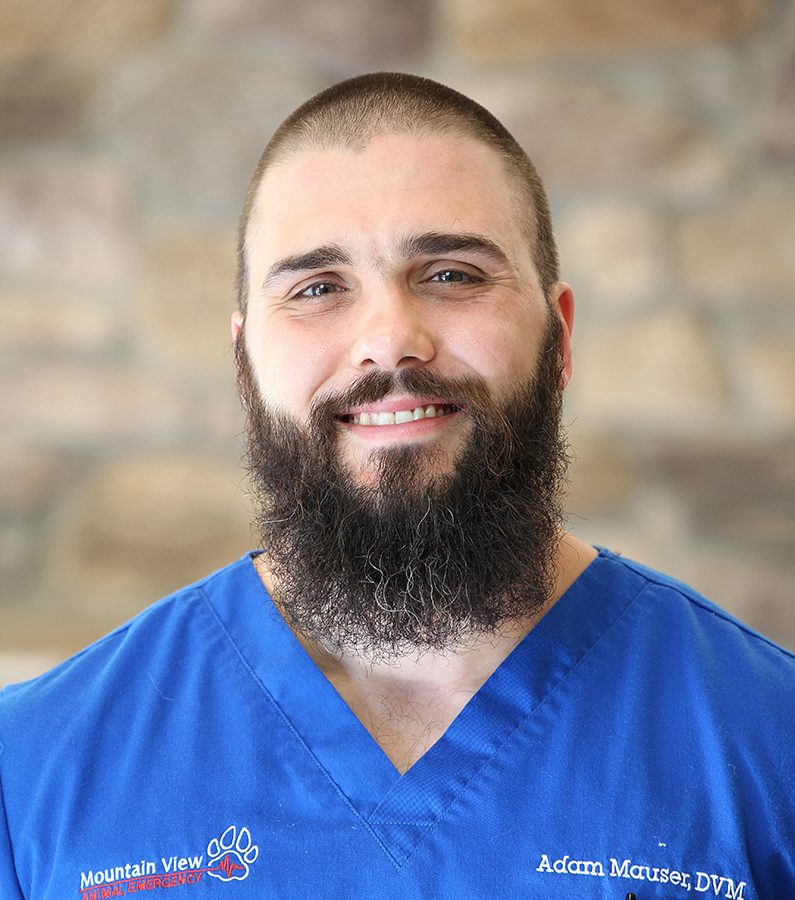 Dr. Mari-Ashli Foy
Dr. Mari-Ashli Foy is a 2016 graduate of the University of Georgia College of Veterinary Medicine. Growing up in Odenton, Maryland, Dr. Foy knew from a young age veterinary medicine was her profession of choice. As the daughter of two veterinarians, she was exposed to numerous opportunities and experiences that continued to foster her love of animals. Prior to receiving her doctorate, she attended Tennessee State University where she received her Bachelor of Science degree in Animal Science in 2012. Upon graduation from the University of Georgia, Dr. Foy relocated to Charlotte, North Carolina and completed a one year internship at Animal Medical Hospital where she was exposed to both emergency and general practice medicine. Her continued interest in emergency medicine led her to join Mountain View in August 2017. When not working, Dr. Foy enjoys dancing, traveling, trying new restaurants, and reading suspense novels. Her furry family includes a miniature dachshund named Synnamin.
Dr. Steven Graves, Medical Director
Dr. Steven Graves graduated from University of Tennessee College of Veterinary Medicine in 1999. Dr. Graves completed a one year internship in small animal medicine and surgery in Massachusetts before joining a small animal practice in New Hampshire for eight years. Since moving to the Mid-Atlantic region, Dr. Graves worked for nine years in a large referral and emergency practice in Virginia as an emergency clinician. Dr. Graves joined the staff at Mountain View Animal Emergency in 2017. When away from the practice, Dr. Graves enjoys spending time with his family as well as outdoor activities such as fly fishing, kayaking and hiking.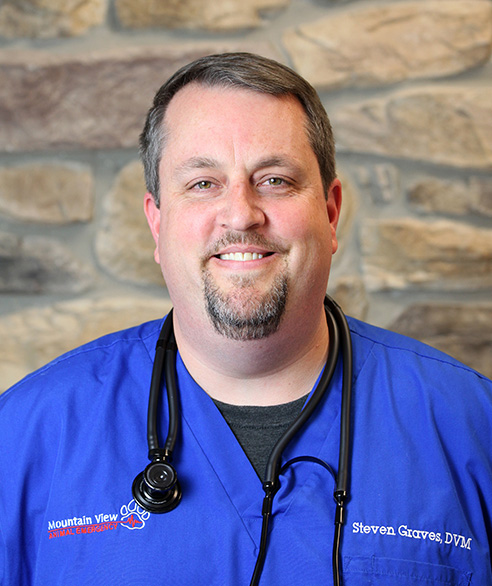 Dr. Noelle Hunter
Dr. Noelle Hunter graduated from The Ohio State University in 2016 and immediately joined a team in a fast past emergency and critical care hospital in OH working as an associate. During this time she was also finishing up a Master's in Public Health, which was completed in 2017. She enjoys the fast pace environment of emergency medicine, and has a deep interest in infectious diseases as well as surgery. When her husband was relocated to Maryland to start a residency at Walter Reed Army Medical Center, she visited multiple practices in Maryland and fell in love with the medicine practiced and compassion at Mountain View Animal Emergency Center. Dr. Hunter was thrilled to join the team in June 2018. During her time off she enjoys spending time outside and with family.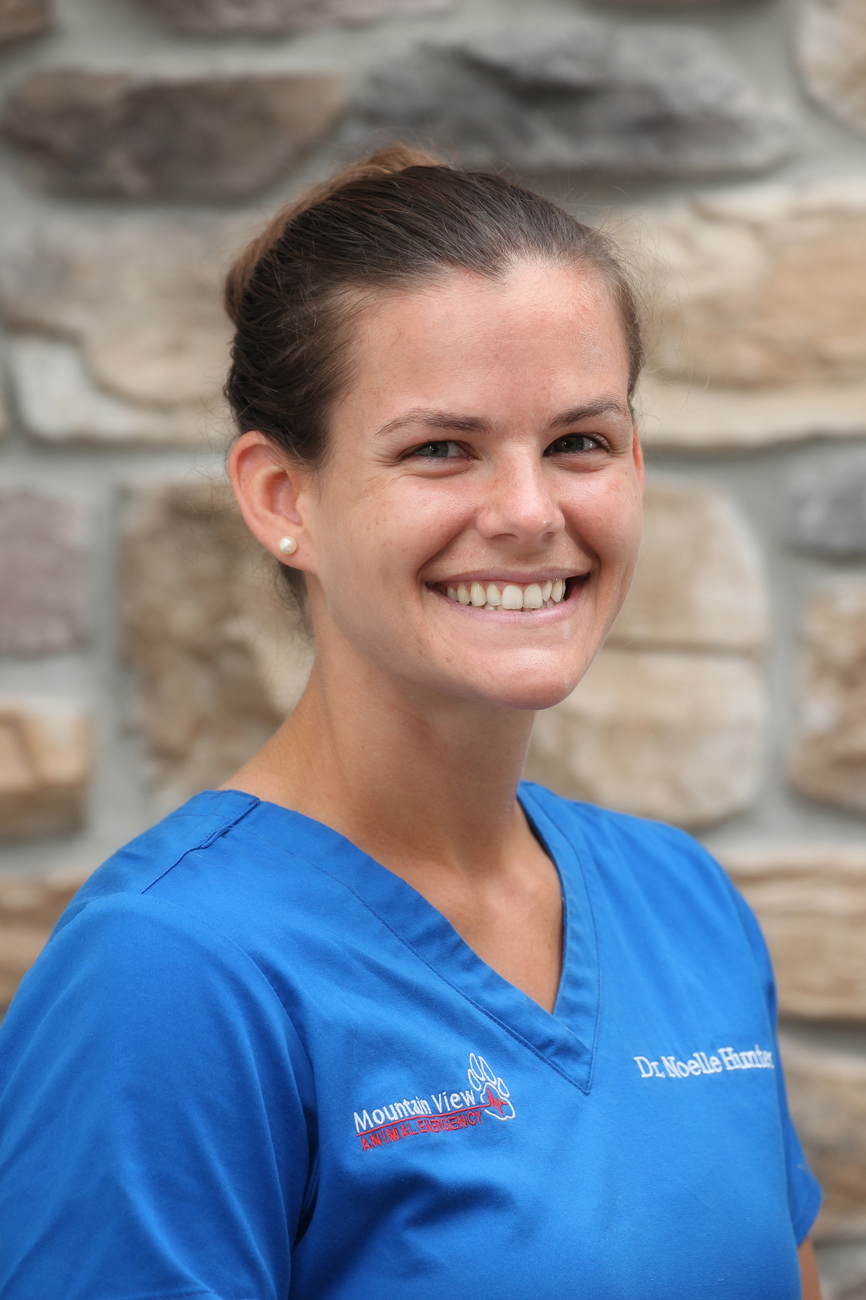 Dr. Miriah Wilson
Dr. Miriah Wilson graduated from University of Illinois College of Veterinary Medicine in 2018. As a native of both Pennsylvania and Maryland, Dr. Wilson knew that she wanted to move back to the east coast after veterinary school. Before veterinary school Dr. Wilson worked many jobs in the field including spending some time assisting head zookeepers and zoo veterinarians at the Maryland and Philadelphia Zoos, working as a Canine hydrotherapist, and also as a veterinary technician. Dr. Wilson always had a passion for emergency medicine which became even more apparent to her during her clinical year in veterinary school. Outside of the job, Dr. Wilson enjoys outdoor activities such as camping, hiking, and playing many sports, as well as doing DIY activities and cooking. She currently has 2 dogs, Cami and Millie.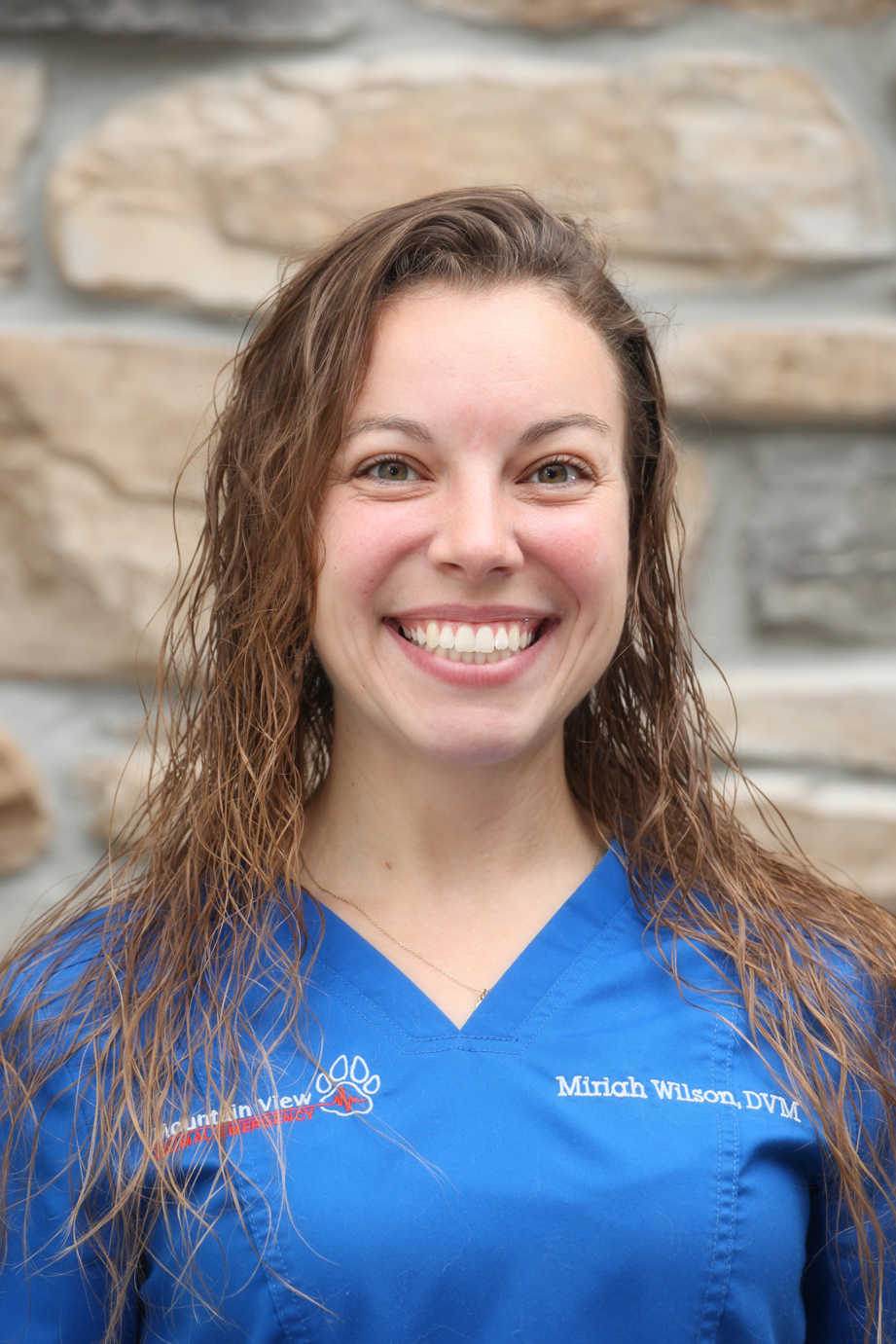 Sean Williams, Hospital Administrator
Sean Williams took over as hospital administrator in January of 2013. His life has revolved around animals since an early age. One if his first jobs was selling tropical fish at thirteen. After graduating from Towson University in 1998, Sean's career has focused on animals, management, and dealing with people in very stressful situations. Sean puts a priority on the quality of our product but also on the quality of MVAE's work environment for our employees. When not at the hospital, he enjoys relaxing at home with his wife, three children, and multitude of pets.