Call-Ahead Emergency Services
At Mountain View Animal Emergency, we provide emergency care for dogs and cats.  As an emergency facility, we don't make appointments, but instead, see cases in order of severity (triage).  Stable cases are seen in the order in which they arrive, which means there may be a wait during busy times.  Clients must call before they come as we will not be able to accommodate walk-ins.  When we received your call, our staff can let you know if we are able to see your pet at your desired time of arrival and let you know of any extensive wait times. If we are able to see your pet, this helps us prepare for your arrival.
Care for Critical Cases
Our highly trained staff of doctors and technicians are constantly monitoring and adjusting treatment plans to meet the needs of your pet.  We have the equipment and experience needed to stabilize your pet in their time of need, including specialized accommodations for patients who require continuous oxygen therapy, plasma and blood products for transfusions, and comprehensive monitoring capabilities such as blood pressure, pulse oximetry, ECG, End Tidal CO2, blood gases, major blood parameters, and many more.  The most important aspect of our approach to critical care is our staff, which is comprised of career, experienced caregivers that are part of the entire medical process. From a dog who needs constant oxygen therapy to a cat in need of a blood transfusion, we are ready for whatever challenges may lie ahead.
Full Surgical Facility
Mountain View Animal Emergency is fully equipped to handle major surgeries as they arise.  Common surgical emergencies encountered in emergency medicine include C-sections, gastric dilatation and volvulus (a.k.a.GDV or "bloat"), gastrointestinal foreign bodies, severe bite wounds, urinary tract obstructions, and much more.  We provide comprehensive, continuous patient monitoring before, during, and after surgery.  In addition, our surgical patients have a continuous pain control plan tailored to their particular needs.  We believe proper pain management is not only essential for the patient's quality of life, but speeds the healing process as well.
Diagnostic Imaging (X-ray, Ultrasound, and CT Scanner)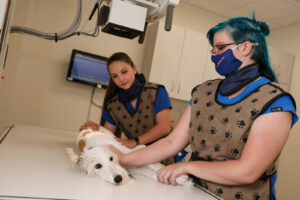 Mountain View Animal Emergency's state-of-the-art digital radiography system allows for quick image acquisition, provides vastly superior image quality, and gives us the ability to send images home with our clients via flash drives. Much like digital radiography, MVAE's ultrasound equipment provides a higher-quality image which greatly aids in the quality of care.
MVAE is excited to offer CT scans to our veterinary community! Our GE Lightspeed 16-slice CT scanner is available for your pets by referral. A computed tomography (CT) scan takes X-ray images from different angles and then processes these by a computer to give detailed images (slices) of bones, organs, blood vessels, and airways of the body. An iodine-based contrast agent is often used to allow better visualization of blood vessels and structures. Check out our brochure for more information on our CT scans: MVAE CT Brochure
CT is a great tool in diagnosing cases with chronic nasal discharge or epistaxis.
CT is the gold standard for imaging pleural and pulmonary disease in human medicine.

Neoplasia vs pneumonia
Lung lobe torsion, diaphragmatic hernia, pleural disease caused by neoplasia

CT is more sensitive than conventional radiography in diagnosing developmental orthopedic disease.

Elbow dysplasia or osteochondrosis dissecans
Early discospondylitis
Evaluating complex fractures (i.e., acetabular injury)
Early bone neoplasia detection

Abdominal CT can be utilized to diagnose masses and evaluate for invasion into nearby structures, evaluate for metastatic disease in the liver and spleen and locate difficult-to-image foreign material and ureteroliths.
If you feel that your pet may benefit from a CT scan, please reach out to your family veterinarian first and have them contact us for additional details at CTscan@mvaevet.com or by phone at 301-733-7339.  They will provide us with a CT Referral Form.
Laboratory Capabilities
Our comprehensive in-house laboratory gives us the capabilities to perform an array of tests on-site with immediate results.  We have blood analyzing equipment from Idexx to perform complete blood counts (checking the red and white blood cells and platelets) and chemistry profiles (kidney, liver, pancreas, etc.).  Mountain View Animal Emergency has an array of SNAP ELISA tests to further aid in the diagnosis of many viral and bacterial diseases.  We are also equipped with the ability to perform canine and feline blood typing and cross matching, coagulation panels, electrolytes, fecal exams, urinalysis, and cytology exams just to name a few.
Care of Hospitalized Cases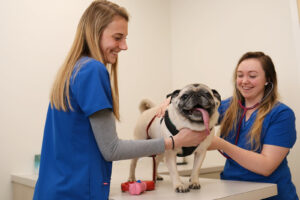 There are times when your pet may require extended care and need to be hospitalized.   We have a doctor and technicians on site constantly monitoring your pet.  We do not allow unattended patients to stay at MVAE. The staff makes sure your pet is comfortable and well cared for.  Everyone at Mountain View Animal Emergency understands how stressful this is for the families as well and we encourage calls for updates and planned visits with their pets. We have the staff, equipment, and expertise to help make your pets' recovery as quick as possible.
VetTriage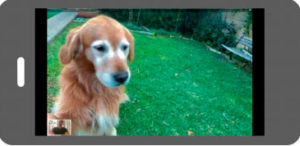 Mountain View Animal Emergency offers pre-screening triage services by partnering with VetTriage. For a small triage fee, you will connect to a veterinarian on a live video chat session. They will view your pet and let you know if this is a concern that requires immediate emergency care at our hospital or if the situation can be cared for and monitored at home until you see your family veterinarian at their next availability. If your pet needs immediate medical treatment they will coordinate your visit with our hospital team to ensure seamless service upon arrival. VetTriage veterinarians are on standby 24 hours a day.
Steps to Connect:
Go to www.vettriage.com/mvae using your mobile device or computer with a camera.
Follow the instructions on the VetTriage page to purchase and request your session with a vet.
The vets will join in minutes and triage your pet.